MICROANALISIS DE TEXAS LLP
A MICROANALYSIS GROUP COMPANY
For decades, the United States and Mexico have collaborated on efforts to protect the environment and health of border communities.
The Maquiladora industry set along the Mexican border is without a doubt, the most important contributor to the air, water and soil pollution problems, in addition to that, the degradation of it's worker's health is increasing year after year.
Programs like The Border XXI Program or the Border Environment Cooperation Commission (BECC) are some of the projects currently operating to address these problems in the area, most of these efforts are made by enforcing the compliance of each country's environmental and occupational laws.
As a consequence of that, and in order meet these regulations, there is the necessity for absolutely all industry to make environmental and workplace risk assessments in order to know if they are within the maximum allowed limits whether of pollutant emissions to water, air or soil, or in the workplace, to evaluate the risk of health hazard.
The MICROANALYSIS GROUP is a group of companies that has 40 years of experience in the business of Occupational Health and Environmental Pollution Assessment. We provide accurate reliable information in order to establish actions to maintain these variables within standard, it also helps as the main source of information for U.S. Corporates in their Environmental and Occupational Health Conservation Policies.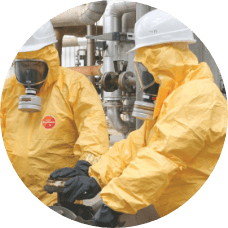 Industrial Hygiene
Field sampling and measurement of the physical, chemical and biologic factors which modify the environmental workplace conditions and may cause occupational illness. This business was specifically conceived to help companies in their Industrial Hygiene programs, as well to meet the MEX STPS (US OSHA Equivalent) regulation requirements.

Environmental Assessment
Field sampling and measurement of the pollutatnts emitted to air by fixed sources or stacks, to water by wastewater discharges, and by solid wastes. This business was conceived with the intention to help companies in their Environmental Conservation Policies, and also to meet the MEX SEMARNAT (US EPA Equivalent) regulation requirements.

Occupational Health
Evaluation of the Biological Exposure Indicators in workers exposed to potentially hazardous workplace conditions. This business was conceived to support the Occupational Health specialists and Physicians in their Occupational Health programs and to meet the MEX STPS and MEX SSA (US OSHA and US NIOSH equivalent) regulation requirements.

Analytical Services
Analytical quantification of pollutants in workplace, air, water, waste, soil and biologic samples. This company was designed for sample processing of the 3 above and for independent Industrial Hygienists, Physicians and Environmental Consulting Firms. EPA, NIOSH, OSHA, ASTM, FDA, NIST, methodologies are used in this business.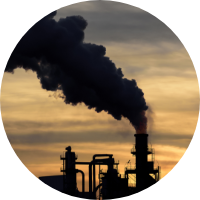 Equipment and Supplies
Imports of equipment, supplies and instrumentation for Environmental and Occupational Health studies. This business was conceived to provide all the group's companies with the supplies needed for the sampling and analysis, and as independent Industrial Hygienists and Environmental Consultants population grew, it became almost the un-replaceable source of supplies for these professionals.

Research and Trining
A non profit organization for training of professionals and workers in the fields of occupational health and environment. This organization was conceived with the purpose to train the group's companies personnel, and as more and more individuals became interested in these specialities, the Instituto now provides fully tailored seminars, workshops and courses according to the requirements of its clients.